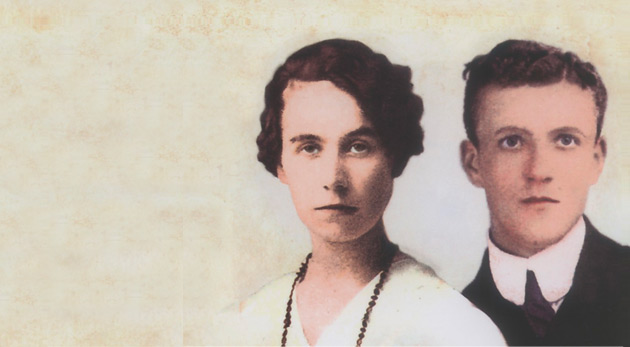 Jock Hume and Mary Costin lived only a few hundred yards from each other in Dumfries yet their lives were worlds apart.


When Jock returns home to Dumfries, Scotland, he reckons he will have enough money to marry his sweetheart, Mary Costin, who is pregnant with his child - my mother. But there is a last-minute hitch. The Titanic hits an iceberg. Ten days after the sinking, on the day set for their wedding, Jock's unidentified body is dragged from the North Atlantic and buried in a numbered grave in Halifax, Nova Scotia. More than 1,200 passengers and crew are never seen again.

Jock, along with the other seven members of the Titanic band, is hailed a hero for playing until the ship went down. Mary, on the other hand, becomes an unmarried mother with an illegitimate child - and an implacable enemy, Jock's father.

This is the starting point for my book, And The Band Played On. Jock's death ignites a feud between the families of the star-crossed lovers when Mary gives birth six months later to my mother. Jock's father, a bully who horsewhips his daughters, is not a man to be crossed. His fury is fuelled by a letter he receives a few days after the sinking, asking him to pay for the White Star Line buttons sewn on to his son's bandsman's tunic for the maiden voyage.

So this is a book about two families at war. Except that it's more, much more than that. The sinking of the Titanic has many uncomfortable resonances with today's corporate world. Despite the Captain's command, 'women and children first', the White Star Line's chairman, Bruce Ismay, escapes in a lifeboat with his job and his fortune intact. The company accepts no responsibility for the 1,500 deaths and to this day has never said sorry. For many, even death provides no escape from the ruthless enforcement of the class system. Sounds familiar?

And The Band Played On is a book that has something for everybody. On one level it is a heartbreaking love story, set in the context of two dysfunctional families. On another, it is a book about heroism and sacrifice. On yet another, it's a modern-day story of corporate greed and recklessness.

But at the centre of it all is Jock: brave but fatally flawed, whose skill playing the fiddle took him around the world - and gave him the opportunity to play on the greatest passenger ship ever built.

It was his bad luck it was the Titanic.